Galileo and Justify on the dance card of BDS broodmare band
The Racing Post speaks to Tony Nerses about this year's breeding schedule


CLICK HERE TO READ THE FULL ARTICLE ON THE RACING POST WEBSITE


Blue Diamond Stud in Newmarket is entering the next phase of its evolution, with the debut crop of foals by homebred Group 1 winner Decorated Knight hitting the ground this year and a restructuring of its broodmare band and ownership of its stock.
Under the guidance of long-standing racing and bloodstock adviser Tony Nerses, the stud has been developed by owners Saleh Al Homaizi and Imad Al Sagar.
However, due to business commitments, Al Homaizi is no longer involved in Blue Diamond's racing or breeding programmes, a change that saw some high-profile stock come on the public market last December.
Chief among the offerings was Decorated Knight's dam Pearling, with Al Sagar taking outright ownership of the daughter of Storm Cat with a bid of 2,400,000gns.
Al Homaizi has, however, retained his 50 per cent share in Decorated Knight. 
"I hope our next chapter will be as good as the last," says Nerses, before expanding on the mating plans that could well yield Blue Diamond's next star.  


Dawn Of Hope
6yo ch Mastercraftsman – Sweet Firebird (Sadler's Wells)
2019 covering sire: Kingman
A half-sister to the same firm's classy Ayrad, Dawn Of Hope landed the Prix Petite Etoile at Deauville and was Group 3-placed for Roger Varian.
"Dawn Of Hope has foaled a smashing filly by Decorated Knight – she's very typical of the quality that we are seeing from his first foals," says Nerses. 
"Kingman is a horse we have supported throughout and he has obviously made an excellent start, so we were keen to use him again and Dawn Of Hope, as a high-class miler herself, looked a good fit. We've already seen Kingman cross well with Danehill, Persian King [out of a Dylan Thomas mare] being a notable example."
Nessina
11yo ch Hennessy – Didina (Nashwan)
2019 covering sire: Invincible Spirit
The daughter of Hennessy is returning to the sire to whom she produced Group 2 winner Ajaya. She is also the dam of the promising Extra Elusive, who ran second in Saturday's Magnolia Stakes at Kempton Park.
Nessina also has a two-year-old colt by Zoffany, who is among a first batch of horses sent by Imad Al Sagar to John Gosden, and is carrying to Siyouni.
"Returning to Invincible Spirit repeats the cross of Ajaya, who won the Gimcrack Stakes," says Nerses. "Nessina has been an excellent mare for us. We were very pleased with Extra Elusive's run on Saturday. It gives us plenty to build on for the season, and he could go for the Gordon Richards Stakes next."
Nouriya 
12yo b Danehill Dancer – Majestic Sakeena (King's Best)
2019 covering sire: Lope De Vega
A daughter of the stud's foundation mare Majestic Sakeena, Nouriya won the Lyric Fillies' and John Musker Stakes.
She has since excelled at stud as the dam of Duke Of Cambridge Stakes heroine Aljazzi, who subsequently sold for a sale-record 1,000,000gns to Newsells Park Stud at the 2018 Tattersalls Autumn Horses in Training Sale. She is among those carrying to Decorated Knight.
"We all know how well Lope De Vega works with Danehill – perhaps some of it is the inbreeding back to Almahmoud at work. Obviously he's an excellent sire on the way up who looks primed for a big season with his three-year-olds. Given Nouriya's previous success with Shamardal, he was the logical way to go.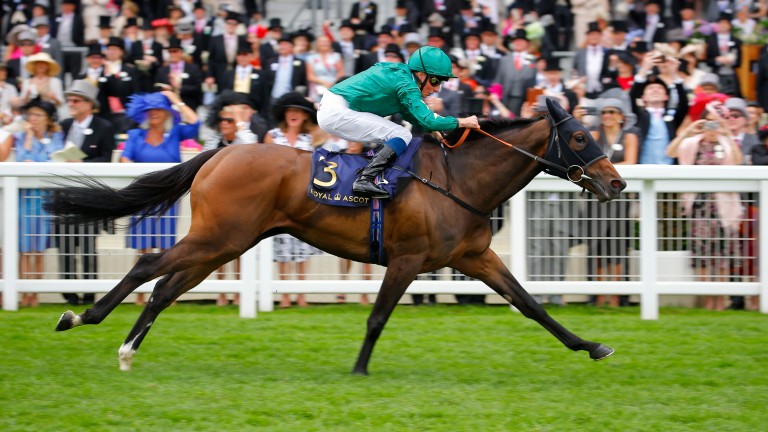 "This has been a tremendous family for us. Nouriya's daughter Aljazzi provided us with the highlight of our season last year when winning the Duke Of Cambridge Stakes – she was our fourth Royal Ascot winner – and we're looking forward to seeing how her two-year-old Frankel filly fares with John Gosden, she's a lovely model too."


Pearling 
13yo b Storm Cat – Mariah's Storm (Rahy)
2019 covering sire: Galileo
Pearling topped last year's Tattersalls December Sale when Imad Al Sagar bought out partner Saleh Al Homaizi on a bid of 2,400,000gns. Al Sagar also secured her 2018 Galileo filly on a sale-topping 1,700,000gns at the foal sale.
The reasoning was obvious. Originally bought by Nerses for 1,300,000gns, Pearling's first foal was Decorated Knight, the Irish Champion Stakes, Tattersalls Gold Cup and Jebel Hatta winner of 2017.
All the while, her immediate family was becoming one of global importance. Already a sister to champion Giant's Causeway at the time of her original purchase, Pearling's sister You'resothrilling later produced Gleneagles, Happily and Marvellous among others.
"Decorated Knight was an outstanding horse for us and now we're delighted to be supporting him at stud.
"It makes sense to continue using Galileo with Pearling while we still can, especially when you have him working so well with the rest of the family."
Princess Loulou
9yo ch Pivotal – Aiming (Highest Honor)
2019 covering sire: Decorated Knight
Winner of the Gillies Fillies Stakes and runner-up to Ribbons in the Prix Jean Romanet, Princess Loulou's first foal, a Zoffany colt, is with Roger Charlton, and she is carrying to Frankel.
"We're keen to support Decorated Knight again this year with a quality book of mares, especially after seeing his first foals," says Nerses.
"Princess Loulou was Group 1 class and she's a Pivotal mare, so a valuable commodity. Pivotal obviously has done exceptionally well with Galileo and so her Decorated Knight foal will be something to look forward to."
Shaden
6yo b Kodiac – Lady Avenger (Namid)
2019 covering sire: No Nay Never
Shaden had her moment in the sun when she won the Firth Of Clyde Stakes. Her first foal is a yearling colt by Dark Angel and her second, a chestnut son of Decorated Knight, arrived earlier this year.
"Shaden was a very quick two-year-old, so she should complement No Nay Never," says Nerses. "He's also proving a good outlet for Danehill-line mares, as we saw last year through Ten Sovereigns, Land Force, The Irish Rover and others. We were keen to use him after his brilliant start last year."
Soon
10yo b Galileo – Classic Park (Robellino)
2019 covering sire: Camelot
Successful in the Listed Vincent O'Brien Ruby Stakes for Aidan O'Brien, Soon is the dam of the winning Jousi, who will begin her own breeding career when visiting Golden Horn this year.
Soon also has a three-year-old Dubawi filly, Tuk Power, who sold for 1,300,000gns to SackvilleDonald as a yearling and is now in training with Andrew Balding. The mare also has a two-year-old filly by Lope De Vega named Summer House with Saeed bin Suroor and a yearling filly by Fastnet Rock. She is due to foal to Dubawi this year.
"We're seeing more successful inbreeding back to Sadler's Wells via Montjeu and Galileo, and in the case of Camelot, it's already provided Sir Erec. Soon is also a half-sister to a very good Montjeu horse in Walk In The Park.
"You couldn't fail to be impressed by the start made by Camelot and we're delighted to be also sending Miss Laila [a winning daughter of Dark Angel] and Nadia Promise [a Galileo half-sister to Aljazzi] to him this season."
Woodland Scene
10yo gr Act One – Wiener Wald (Woodman)
2019 covering sire: Justify
A half-sister to Racing Post Trophy winner Crowded House and from the family of Storm Cat, Woodland Scene's second foal is multiple winner Martineo. Her two-year-old Mastercraftsman colt is with Roger Charlton and she also has a yearling colt by Ajaya. She delivered a Declaration Of War sister to Martineo in February.
"We're delighted to be using Justify with Woodland Scene, whose family has been effective on both turf and dirt in recent years. Justify was an incredible horse and a very strong, striking physical to go with it," says Nerses. 
Decorated Knight foals exceeding expectations
Blue Diamond Stud threw strong support behind their triple Group 1 winner Decorated Knight in his first season at the Irish National Stud last year by sending him 24 mares.
In addition to Nouriya, Shaden and Dawn Of Hope, they included: Group 3 winners Princess Noor (who sold for 675,000gns to Barronstown Stud at the Tattersalls December Sale) and Lady Wingshot, Order Of St George's half-sister Arwa and Cable Bay's half-sister May Rose.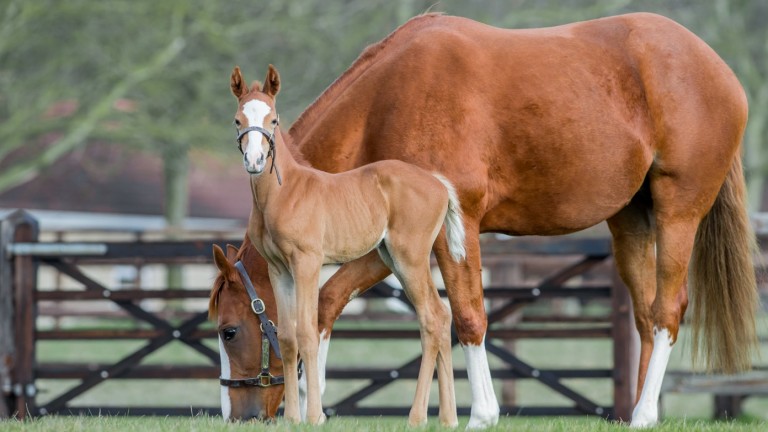 The stud is sending another eight to the son of Galileo this year, including the Group 1-placed Princess Loulou, stakes producer Epiphany, Mastercraftsman's sister Maid To Master and Arwa.
"The foals are exceeding all expectations," says Nerses. "We have five on the stud so far and we're impressed with all of them – they appear to have great quality, athleticism and substance. Arwa's colt, the first born on the stud, is particularly nice. And May Rose's filly is full of quality. 
"It's exciting. He was a brilliant winner of the Irish Champion Stakes and he's a Galileo from an excellent stallion-producing family, being out of a sister to Giant's Causeway. We have every confidence in him and look forward to supporting him and those breeders who used him at the breeding stock sales."
Latest news
Back to top >>